EDPO at the IAPP Asia Privacy Forum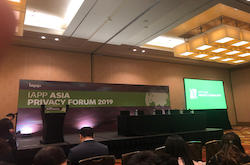 On 15 and 16 July, EDPO attended the IAPP – Asia Privacy Forum which was very interesting.
Here are some takeaways as GDPR Representatives:
– Both Commissioners Tan Kian How Personal Data Protection Commission (PDPC) Singapore and Stephen Kai-yi Kong (Privacy Commissioner for Personal Data, Hong Kong) emphasised the importance for companies to increase accountability and ethics.
– On the Data Protection Landscape in APAC Paul Breitbarth, Daniel Levison and Hiroshi Miyashita explained how fragmented the legislation still is in this part of the word. Interestingly, a common focus in this area are the new laws on data breach notifications.
– On the developments of China's Data Regulations by Barbara Li, we found that on some occasions Chinese law can have extraterritorial effect!
– On the free flow of data between Japan and the EU, Junichi Ishii from the Japanese Personal Information Protection Commission explained Japan's position with respect to the GDPR, the mutual adequacy decision and the close relationship that exists between the EU and Japan should enforcement happen.