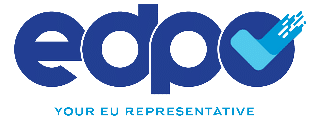 What GDPR means for ATS OnDemand clients
Why you most likely have to appoint an EU representative in order to avoid sanctions under the GDPR
Does the GDPR apply to your US company?
Do you offer goods or services to individuals in the EU (for payment or for free)?
and/or


Do your monitor the behaviour of individuals in the EU (such as tracking or profiling)?
If you answered yes to one of these questions, then your company most likely falls under the scope of the GDPR and has to appoint an EU-based representative for GDPR purposes.
ATS OnDemand appointed EDPO as its EU representative.

 


Here are five reasons why you should too.
1. Working together with EDPO makes life easier for everybody
2. Processes are aligned and optimized

3. We all save time, effort and money

4.We mutually benefit from experience and knowledge-sharing

5.You get a 10% discount on the annual fees
"After reviewing numerous EU representatives, we found that EDPO offers the most complete, efficient, accessible and professional service – at very competitive fees. They are also on the official vendor list of the International Association of Privacy Professionals (IAPP) which means that they're a trusted and reliable partner."
– Arthur Pereless, CEO ATS OnDemand
What can EDPO offer your company?
 

The handling of an

 

unlimited number

 

of requests from

 

individuals (data subjects)

 

in the EU and from

 

data protection authorities

 

in the 28 Member States of the EU

Assistance with the handling of an

 

unlimited number

 

of data breach notifications

 

The right to use EDPO's contact details and logoon your website and on other company material
The right to use the EDPO Compliance CertificateAccess to a 24/7 hotline for assistance with data breach notifications
Alerts regarding relevant GDPR-related news and developments
Get your Compliance Certificate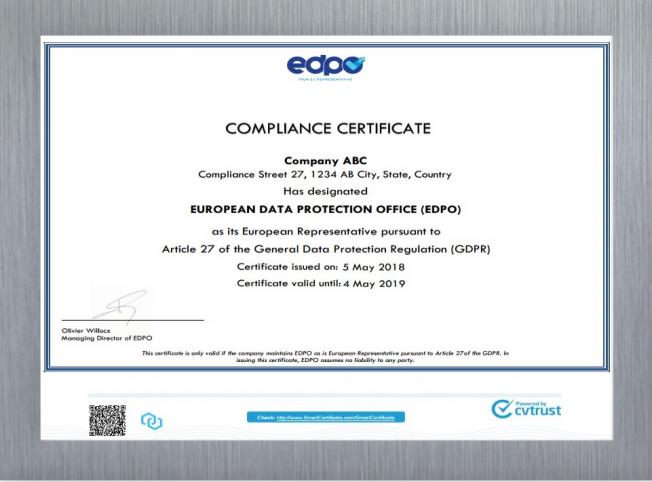 Lets customers know that your company is

 

accountable

 

and that your compliance with Article 27 of the GDPR is

 

verifiable

Creates

 

trust

 

and provides

 

security
Informs your business partners that your company complies with the EU's data protection standards and allows for

 

greater business opportunities
Lets customers know that your company is

 

accountable

 

and that your compliance with Article 27 of the GDPR is

 

verifiable

Creates

 

trust

 

and provides

 

security
Informs your business partners that your company complies with the EU's data protection standards and allows for

 

greater business opportunities